We met John and Bobby through our mutual friend, the indefatigable Richard Underwood. Richard introduced them as a lovely couple with an ever-positive attitude towards John's Parkinson's.
At 76, John has had Parkinson's for 15 years now, and suffers from severe freezing of gait, often staying rooted to the spot for minutes on end. Richard hoped we could help.
Meeting over Zoom and in Person
Our first meeting with the pair was over video call. As John told us about his journey with Parkinson's it quickly became clear that it has had no effect on his sense of humour, which is as wicked as Bobby's. The two of them made all sorts of jokes about his freezing and the interesting collection of tricks they've amassed to help him cope. Both John and Bobby are grateful that they can still go on holiday and look forward to escaping to warmer climes as much as they did before the pandemic. As positive as John is though, he can't escape the fact that Parkinson's is "just an absolute pain", and has certainly limited what he's able to do.
Given the severity of John's condition, and how kind and forthcoming he and Bobby were with telling us about their situation, we were very keen to test CUE1 with them. As soon as the lockdown restrictions were lifted, we made the trip to their Basingstoke home to do just that. Despite our masked appearance both were incredibly kind and welcoming with John reeling off more jokes as Bobby magically produced coffee and biscuits for us "weary travellers". We were especially thrilled to see John wearing his Charco PD Innovators t-shirt. They were clearly as excited as we were to see what CUE1 could do for John, especially having recently seen footage of another one of our participants, Barry, whose freezing was greatly reduced while wearing the device.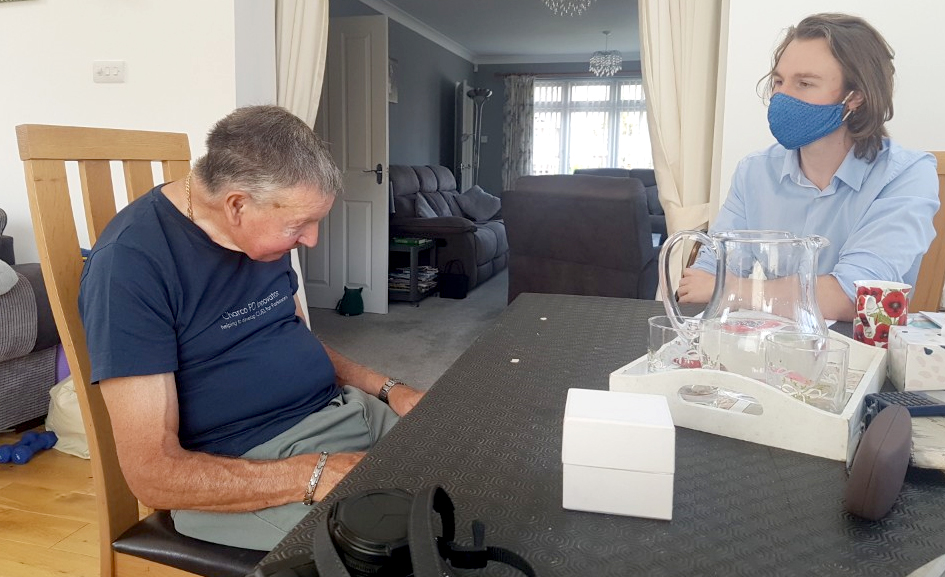 We set up the testing as normal, starting off by scoring John against the Movement Disorder Society Unified Parkinson's Disease Rating Scale (MDS-UPDRS) and taking baseline recordings of his gait. We then turned the device on and repeated all of the tests. Although John's MDS-UPDRS score improved 4 points, his freezing did not. This was of course a surprise for everyone. John and Bobby had their hopes dashed, and we were disappointed by what was the first time our device had caused little improvement. Both John and Bobby were incredibly understanding noting that everyone's Parkinson's is different and that John's is very severe. They became almost apologetic that they had not contributed a "good result" to our data. However, this couldn't be further from the truth. 
Coming back with renewed enthusiasm
Although it was heart-breaking that we weren't able to help John that day, his result was just as important to us as our other positive results. If there was a specific element of John's particular condition that rendered CUE1 less effective for him, then it was our job to identify it and figure out how we could overcome it. We explained this to John and Bobby, and they were raring to continue testing with us to accomplish this.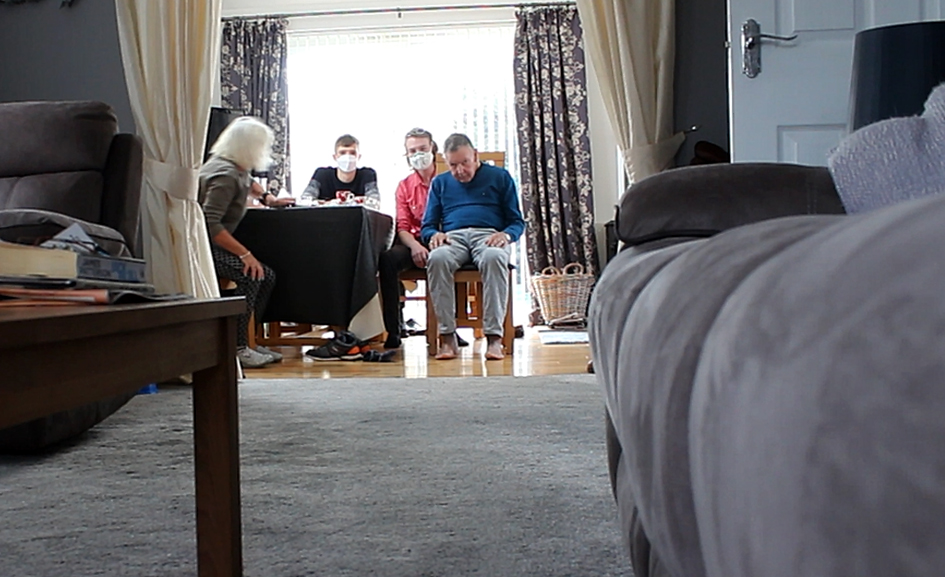 Rather than be deterred or defeated we went away and put our heads together, speculating as how we could help John more with his freezing of gait. After a couple of weeks we returned to John and Bobby's place to put our theories to the test with a range of new testing conditions. Again, the couple were incredibly welcoming to all three of us, again plying us with many lovely coffees and kit-kats! Not only this, but John was also amazingly willing to try all sorts of different tests, which had him getting up and down and walking around his sitting room countless times. He was an amazing sport and we are beyond thankful for the sheer enthusiasm both he and Bobby showed towards our visit. To top it all off, they had us over despite it being the day of their wedding anniversary (congratulations!), and were about to set off for some time away together in the countryside. Thank you again, John and Bobby!
Success through persistence
When it came time to test again, we were all understandably a bit tense. Thankfully though, this time around with our slightly tweaked testing parameters, we were able to give John a noticeable improvement to his walking, with fewer freezing events. It was such a different outcome to our previous visit that we were all stunned into silence, nervous to celebrate prematurely. This just goes to show, as we continually see through our user testing and through talking to our lovely Parkinson's community online; that everyone's Parkinson's is different. To expect the same thing to work for absolutely everyone is folly, and so ensuring that CUE1 is versatile enough to be used by many people in many different ways continues to be our top priority.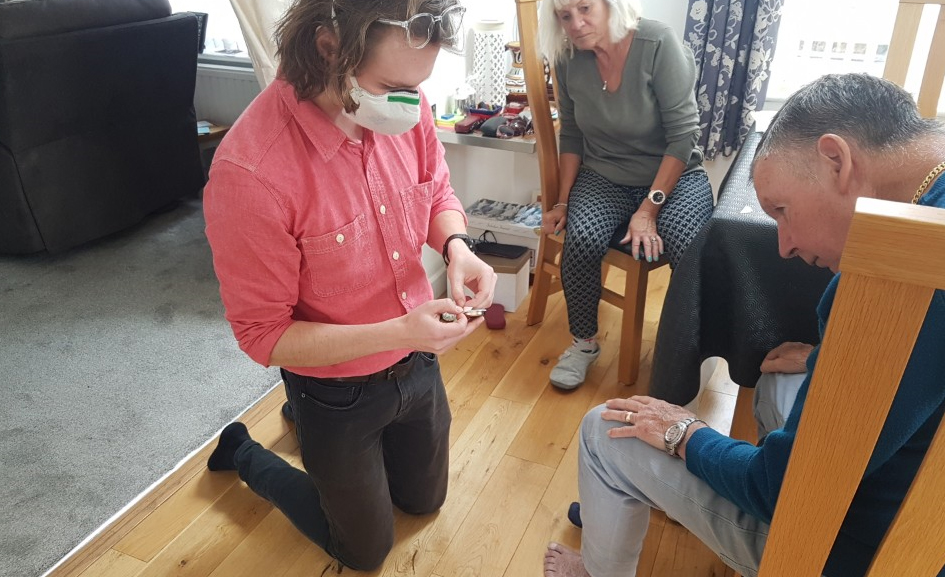 It was an absolute pleasure to work with John again. We were even more pleased when we received a surprise phone call from Richard as we drove home that day, happily reporting that John and Bobby had phoned him immediately after we left to tell him the good news. This, we felt, was the real seal of approval for the progress we'd made with John and Bobby that day; that they were excited enough to have called their friend straight away means the world to us!
There's always more to learn
Our work certainly does not stop here. We are keen to continue working to identify with more certainty the individual differences between people's Parkinson's that make particular methods of using our device more effective for them. Although we have ensured that experimenting with different settings and placements of CUE1 is easy, we'd rather it wasn't necessary at all. The only way we'll be able to do this is by continuing to work with people with Parkinson's. The willingness of people like John to help with our work is indispensable to Charco, and we are incredibly grateful for all our user testers have given and continue to give to our development process.
There is no failure, only success, or an opportunity to learn.
Thank you once again, John and Bobby, for being so kind, welcoming, and enthusiastic when we came to visit you!
OFFERS, NEWS & TESTING RECRUITMENT
JOIN OUR PARKINSON'S COMMUNITY
Stay up-to-date with our progress and be the first to know when CUE1 is available.